Planning a wedding, special events or catering for friends and colleagues?
Elite Party Rentals banquet tables provide lots of space for you to lay out appetizers and for gift tables.
4' banquet – 30in w x 4ft (seats four comfortably to max six)
6' banquet – 30in w x 6ft (seats six comfortably to max eight)
8' banquet – 30in w x 8ft (seats eight comfortable to max ten)
Ask about Elite Party Rentals delivery and pick up service!
At any event you will most likely need some tables for your guests; possibly you are catering and need some banquet tables. We offer 6 and 8 ft banquets as well as a wide variety of round tables. Need a certain amount of guests per table? We will be able to accommodate you. We have classy and elegant tables, perfect for weddings, personal parties, grad parties or a corporate event.
48"dia x 30" h (Seats Six)
60" dia x 30" h (Seats Eight)
72" dia x 30" h (Seats Ten)
We also have nice and elegant table linen, overlays and skirting which will help class up your event.
Ask about Elite Party Rentals delivery and pick up service!
Holding a big event that you need chairs to accommodate all of your guests for?
Throwing a big party on a tight budget? Well look no further, we have suitable chairs for you!
CHAIR COVERS
Chair Cover including Bow/Sash $ 6.00 each
Chair Cover including Specialty Linen Bow/Sash $ 7.00 each
Covers are offered in White, Ivory or Black
Chair Bows/Ties are available in various colors and fabrics
Are you having a huge corporate event? Having a wedding party and need to seat all your guests comfortably?
We have elegant and classy padded wooden chairs which come in two different colors. We offer elegant white and classy sandal brown. These chairs will not disappoint you or your guests.
White and Brown Wood Folding Chairs W/Padding:
White padded – 30h x 17 ½ w seat – 14in
Natural wood – 29h x 17w seat – 14 in
Cocktail Chairs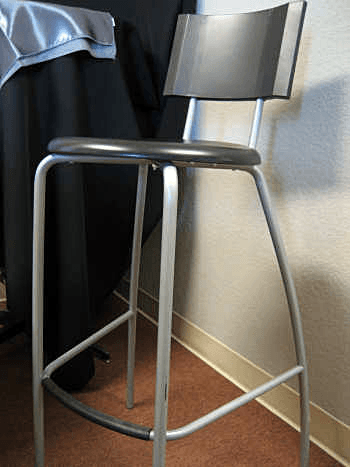 Price Each:  $ 8.00
Planning a cocktail party? There will be a variety of people in the room, including some that may like to sit at that fancy cocktail table and have a conversation with a friend or just relax for a bit at your event.
Elite Party Rentals Cocktail Chairs and Cocktail Tables are the perfect match to spice up your party!